Getting COVID-19 Treatment?
Here's How to Make Sure Your Pet Is Cared for While You're Away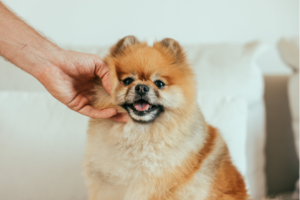 Image via Pexels
[I]n the United States, 85 million families own at least one pet. Often, pets are more like full-fledged family members. As a result, if you have to go away for a while to receive COVID-19 treatment, you want to make sure they get the care they need. If you aren't sure how to make that happen, Pawstalk Animal Communication & Reiki offers some tips that can help.
Setting Your Friend or Family Member Up for Success
ZenBusiness has some great tips on keeping your home office safe – including for your pets – by eliminating choking hazards and electrical dangers. If a friend or family member is going to watch your pet, go the extra mile to set them up for success. Start by ensuring they have all of the supplies needed to take care of your animals. While what you may need to have on hand varies from one pet to the next, you need to at least cover the basics.
For example, if a family member or friend is caring for your dog or cat, it's critical that you make sure that you write up a list of important information and phone numbers, such as:
Nearest Emergency Vet
Your animal's regular vet
A family member or trusted friend whom they may call for help in case of an emergency
Any medications or supplements they take
A list of your animal's routine, such as feeding times, walk times, play times, favorite treats, etc.
Also make sure your caretaker has access to:
Enough of you pet's regular food
Special Treats
Brushes
Favorite toys
If your caretaker is in charge of dogs, make sure to add things like:
Collars and leads
Nail trimmers
Also, get extras of any prescription medications they might need. If your animal has an ongoing health problem, might want to contact your vet, as well. Along with letting them know that someone else is handling your pet's needs while you get COVID-19 treatment, you might want to ask if there are any concerns about your animal contracting covid, and you may be able to add a credit or debit card to your account to pay for any costs that could arise during your absence.
For you app lovers, you can download and set up smartphone apps to help ensure your pet's care. Whistle: Smart Pet Tracker – a companion app for GPS-enabled wearables – lets you see your pet's location at all times.
With MyPet Reminders, you can set a schedule for important things like medications and vet appointments. If you have a dog that was trained with a clicker, Dog Clicker Training lets you (or your pet sitter) have access to a digital clicker right on their phone.
Alternatives to Friends and Family for Petcare
If a friend or family member can't provide care, you do have other options. Here are two that are worth considering.
Hiring a Pet Sitter
In some cases, hiring a pet sitter may be your simplest and best for your pet alternative. The best-case scenario would be to find someone to live in your home and take care of your animal so his or her routine stays as much the same as possible.
That said, it may be difficult to find someone who wants to live there since you have been diagnosed with Covid. In that case, there are people who may make visits to your home (not my favorite choice, but an option, but there also may be people keep your pet in their home while you get treatment. One of these places in San Diego, for cats, is Chiqui's Kitty Resort, where they take only cats from one household at any given time, and the cats have free-run of a kitty friendly environment.
Just as an aside, people have the mistaken idea that cats are so self-sufficient that they don't need full-time care when you are gone. Nothing could be further than the truth. Cats need every bit as much love and attention as dogs or any other animal.
While you may be able to find options on Craigslist or local Facebook groups, there are also sites focused on pet-related care. Rover is one of the leading options. You can review pet sitter profiles, read reviews, and use a secure payment system to handle the costs. Care.com is another great resource. It offers a similar experience, including secure payment processing, online booking, and customer reviews.
Boarding Your Pet
If your pet is fully vaccinated, you may be able to board your pet while you get treatment for COVID-19. Some vet offices offer boarding services, though there are also separate boarding kennels in many cities that offer a similar type of service. This is a better option for dogs than for cats for obvious reasons.
In most cases, boarding your pet is more expensive. However, it could be a more straightforward option than arranging for a pet sitter, especially if you aren't sure how long you'll be gone.
And just as a reminder, let's all remember that the pandemic is not over. Mask up, Vax up, and be considerate of your neighbors who may be at high risk for this terrible disease.
By By: Mike Nicholson & Lisa Larson
Pawstalk Animal Communication & Reiki can help you with talking to animals after they have crossed into spirit, as well as behavioral problems, fear & abandonment issues, and more! Call 760-444-0811.