A Pet-Parent's Guide to Getting Your Four-Legged Friend Ready for Spring & Summer
By Mike Nicholson
Photo Credit: Pexels.com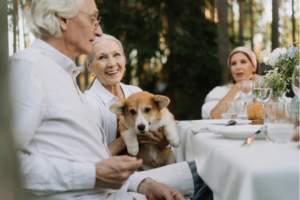 As the weather warms up, you can look forward to spending more time outside. If you have a pet like a dog, they're likely also looking forward to more outdoor time, giving them the chance to explore the world beyond the confines of your home. While you want Fido to soak up as much nature as they can, you also want to keep them healthy and happy. Help get them ready for a safe spring season with the below tips presented by Pawstalk Animal Communication and Reiki.
Schedule an appointment with your groomer
In the colder months, it's helpful to allow your dog to grow out their coat. They can keep warm with an extra layer of fluffy fur. However, in warmer weather, their "winter coat" can prove too heavy. Plus, long hairs are sure to catch dirt, leaves, and other grit, which your four-legged friend may then track into the house. Find a groomer in your area to give your cat or dog a trim before they start romping around outside.
Update their identification tags
When your dog is outside, there's an increased likelihood of them running off or getting lost. Even if they're well trained, unexpected incidents like a car backfiring can spook them. Make sure their ID tags are up-to-date with your current contact information before they head outdoors. You might also consider getting your pet microchipped. As Pet Paradise explains, this offers added security because a microchip can't slip off like a collar.
Pay a visit to your veterinarian
An annual checkup is important for your pet's health. It's an opportunity for a veterinarian to detect early signs of potential diseases and make recommendations on how to give your animal pal a healthier lifestyle. Springtime is a great time for a checkup. You can use the opportunity to ensure your pet is up-to-date on vaccinations and discuss tick prevention with your vet. When animals spend more time outdoors, the risk of exposure increases.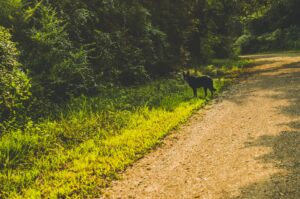 Get ready for fleas and ticks
Fleas and ticks carry diseases that are harmful to your pet, like Lyme Disease. Protect your animals by investing in proper preventive care products. There are many different available, from oral medications to topical powders. Ask your vet for pointers. (Do your own research to decide what you feel safe for your animal.) You can also minimize the risk of ticks and fleas by having a lawn care professional trim back trees, grass, and bushes and use only animal safe products on your lawn. These are all environments where critters like to hide.
Also, do what you can to eliminate clutter around the home; not only will this make things safer for your pet and keep stress levels down, but it will also help you keep the home clean. This can help keep pests like ticks, fleas, and other insects from hiding out.
Prepare your backyard for outdoors activities
Lawn care isn't the only way you can prepare your yard for springtime activities with your pet. You might also consider having a fence installed to keep Fido safely on your property. You can find fencing contractors on Thumbtack, comparing costs according to materials, size of the fence, and installation location. The average cost for fence installation is $4,500. When shopping around for fence installers, ensure they're licensed and insured — and familiar with best practices, like not installing a fence by underground utility lines.
Wash your pet's bedding and toys
If your pet has been chomping on the same toys and curling up in the same bedding all winter long, cat or dog, it may be time for a refresh. Take a moment to wash all of their pet accessories. If any of the items are simply too old and worn, consider treating them to some new goodies. Online retailers like PetSmart have discount sections where you can get new pet accessories without breaking the bank.
Spring is a wonderful time to be outdoors with your pet, giving you the chance to explore nature and play in the warm weather together. Just make sure to prep your pet according to the tips above first. This will ensure their safety.